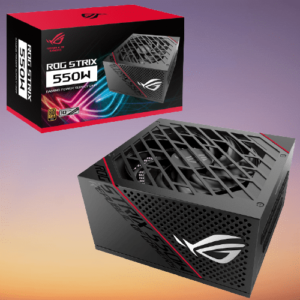 POWER SUPPLIES / PSU
You've probably seen different badges on different power supplies (psu). They usually have labels like 80+ with some sort of naming afterward for certification. The most common power supplies are 80+, 80+ bronze, silver, gold and the best 80+ Platinum and Titanium. 80+ PSUs provide 80% efficiency at a given load. Another thing to note is that the 80+ PSUs also have further brandings such as the 80+ bronze, silver, gold, platinum, and titanium. The difference between them is that some have higher efficiency at 20%, 50% and 100% load.
Out of Stock

€

59.00 (

€

47.97 Ex.vat)
EVGA 650 BR 650W 80+ Bronze Power Supply. Form Factor - ATX Edition - 100-BR-0650-K3 Wattage - 650 W 80 PLUS Certification - 80 PLUS Bronze Modularity - Fully Wired More information about warranty, delivery, collection is in the FAQ → This product comes with a 1 year warranty.